'Why I joined Tomorrow Health' by Krishnakumar Rajagopalan, Head of Engineering
Tomorrow Health's new Head of Engineering, Krishnakumar Rajagopalan shares why he left his journey at Amazon to lead engineering at Tomorrow Health.
After 7 years at Amazon building systems for retail, advertising and AWS, I left in June 2021 to join Tomorrow Health. Amazon was an amazing place to work — I was fortunate to be part of incredible teams building eCommerce search engines, fulfillment systems, advertising systems and a new AWS AI service. Each of these systems had a tangible impact that moved the needle. Beyond building systems, I helped build careers for many at Amazon and feel great pride in the initiatives and accomplishments that resulted. I have joined Tomorrow Health as the Head of Engineering where I will continue my journey as a builder — building systems that will improve the lives of millions of patients and their families.
Tomorrow Health is building the operating system for health care at home. We are tackling the complex problem of coordinating the goods and services needed to deliver high quality care at the place where patients want to be most — home. While the pandemic accelerated the need for home health care, the momentum continues as the country turns the corner on COVID-19. Building a high quality care environment at home requires building new operating models and systems, challenging the status quo and working collaboratively with stakeholders across the health care landscape. It requires grit and creativity as well as the ability to re-invent and rebuild with flexibility and experimentation.
Home health care is projected to drive a major portion of health care spend this decade. Several companies are pursuing different parts of this mission from IoT devices to coordinate acute hospital care at home, to telehealth systems and at-home-diagnostics. At Tomorrow Health, we're re-architecting the home-based care ecosystem by building a platform to holistically streamline the coordination and management of quality home medical equipment, supplies and services. With thoughtful technology and integrations with a wide range of major industry stakeholders, Tomorrow Health is uniquely positioned to transform home-based care delivery at scale.
Tomorrow Health is backed by world-class investors including Andreessen-Horowitz, Obvious Ventures, Box Group and Rainfall Ventures as well as founders and former C-level executives from Humana, Tenet Healthcare, Flatiron Health, Quartet, PillPack, Stripe, Massachusetts Medicaid and the World Bank. Our advisory board boasts leading health care industry luminaries such as Paul Mango, former head of McKinsey's health care practice, Eric Hargan, former Deputy Secretary of Health and Human Services and Roy Beveridge, the former Chief Medical Officer of Humana. Tomorrow Health was founded by Vijay Kedar, a former executive of Oscar Health and Gabe Flateman, Co-Founder and CTO of Casper. If anyone can drive this mission forward, it is this stellar team backed by stellar investors. But what really made me join Tomorrow Health are 3 essential points: the culture, the impact and the technology challenges.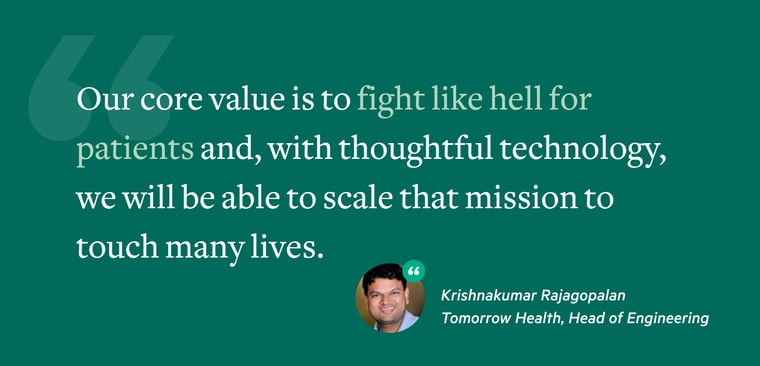 Tomorrow Health's culture is evident from each interaction that I had with the team. Each team member I met at Tomorrow Health is passionate, smart, and has the grit to take on the goal. They come from diverse companies like Uber, WeWork, Flatiron Health, Oscar Health, Stripe, Amazon, Wayfair and more, but are united by the cause. They are driven by company values and invested in the mission. But they are also grounded with a clear headed view and the ability to iterate quickly when challenges arise. I could feel that this is a special team. And the results speak for themselves. In the last year, Tomorrow Health's team has grown 10X, and continues to expand roles as the business rapidly accelerates. The team is working with thousands of doctors and clinics and hundreds of medical suppliers. We've partnered with over one hundred insurance companies at the regional and national level towards serving countless patients and families in need of home-based care. The speed of change is remarkable — especially in the complex and highly regulated health care space. The flywheel is accelerating, and the health care industry has started to pay attention. And we're just getting started.
What excites me most are the solutions we are building and the impact they will have. The Tomorrow Health platform creates a fair and efficient marketplace that coordinates between patients, doctors, insurance companies and home-based care providers. Our core value is to fight like hell for patients and, with thoughtful technology, we will be able to scale that mission to touch many lives. Our tech stack spans what one might expect from a technology-enabled marketplace, but with a health care twist: we are building interfaces to medical systems, order workflows, fulfillment technology, and data systems to track operations by the minute — all with a specialized focus on the clinical rules and routing technology that exists within health care. There is a lot of opportunity to work on real world problems and build systems to scale, with each workflow directly resulting in better care for a patient in need. Each area of the stack deserves a blog post on it's own! The flywheel is dependent on building a core efficient engine that brings stakeholders together and optimizes for quality, affordability and operational reliability, while creating an augmented experience for everyone involved. We are focused on understanding the needs of diverse stakeholders and building systems to serve those needs — all the while building a world class technology team to execute on these solutions.
Will Tomorrow Health be the next Amazon of home health care? It will be for me. I am excited to join the Tomorrow Health team to build out the vision of better health at home. If you would like to join me in this mission, check out open roles here: https://boards.greenhouse.io/tomorrowhealth